Back to Blog
DreamMaker Bath & Kitchen Earns Best of Houzz Award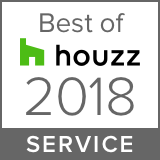 We are pretty excited to add another badge to The DreamMaker Bath & Kitchen profile on Houzz.com. This Best of Houzz for Customer Service comes from an online community that is over 40 million users strong (I know, that's a crazy big number right), and although we know many of the millions of Houzz users don't know us personally, DreamMaker clients here in Springfield and surrounding communities have used the Houzz platform to share reviews about their experience using the DreamMaker Team to design and remodel their bathroom, kitchen, laundry and basement spaces.
Houzz.com is a quickly growing "pinterest" for all things home and home improvement. For DreamMaker, it is a great avenue to post great pictures of completed remodeling projects for clients to view and also to share their own collected pictures of spaces that inspire them.
If you are interested in learning more about our Simple Process and how this is of benefit to the homeowners we work with, we hope you will read reviews and do your homework. Reviews can be found on our Google Business profile and Facebook page as well as on Houzz.
We believe in treating others the way we would like to be treated every day. If this earns us a badge every now and then, well that is just icing on the cake!